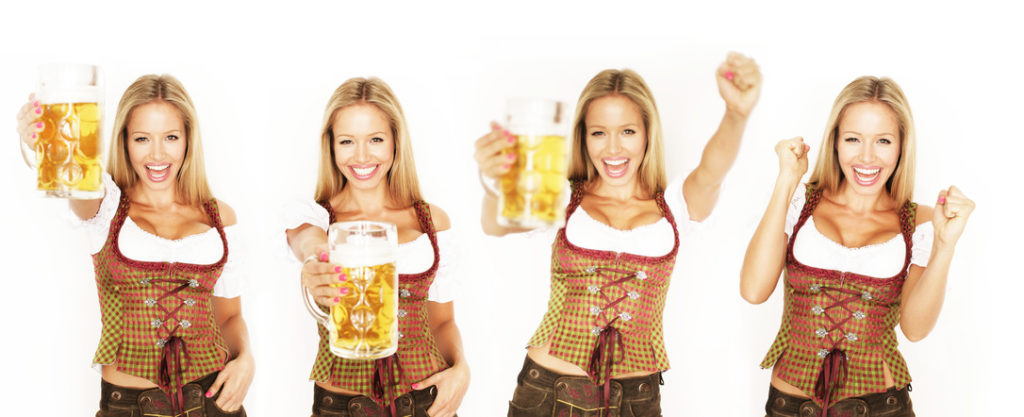 Oktoberfest: An Annual Loss of Control?
In my last year article "Eat, Drink, Be German" I stated that American Oktoberfest celebrations have less in common with the famous Munich festival. American events generally involve less beer drinking and are more family focused. On the other hand, the Munich Oktoberfest still draws masses of people, and even after the latest terrorist attacks in Europe, its popularity is undiminished. What make Germans act so loose for 17 days?
Each year in September, Munich holds the largest beer festival in the world. Because October can be pretty cool in Germany, since 1872 the Oktoberfest in Munich has started in mid-September and ends the first Sunday in October.
The tradition goes back to 1810 when the first Oktoberfest was held in honor of the Bavarian Crown Prince Ludwig's marriage to Princess Therese. Since then, it has developed into a major event that 6 million people attend every year. In 2015, festival-goers drank a total of 7.5 million Maß, which is the Bavarian word to describe the quantity of beer in a beer mug. (Today, one Maß is exactly 1 liter or 33.8 oz)
If every visitor drank beer—which is not the case, as a lot of families with children visit the rollercoaster and slides during the day—they would each drink 1.25 liters of beer on average.
Knowing German people pretty well, I'm surprised they don't drink more than 1.25L at Oktoberfest! I asked my French husband, who loved to visit the Oktoberfest with his buddies when we lived in Germany.
Me: Honey, do you remember the last time you went to the Oktoberfest in Munich?
Him: Sure, I do. It was fun, but expensive! I threw up in the taxi driving me back to the hotel. I had to pay $230 for cleaning inside, and the taxi driver was not amused at all.
Me: You never told me that! Please, just between us, how many beers did you drink to get so sick?
Him: I stopped counting… but I was told that I didn't finish my fourth Maß.
In a word, Oktoberfest in Munich is not as romantic as it sounds. There are a lot of people, all of whom are drinking a considerable amount of beer. In 2015, EMS responded to calls about 628 intoxicated people.
What make Germans act so loosely during Oktoberfest?
Order is a dominant topic in German culture, and Germans expect everything to be well-organized. They are always on time and love cleanliness, directness, perseverance, and determination. Germany also has many laws and regulations that citizens follow closely. As a result, Germans often act very controlled.

Regardless of these attributes, during Oktoberfest, Germans turn into something completely different. Why?

At Oktoberfest, yes, you can drink all you want (but be aware that it's not free; a beer Maß costs around $12). In addition, you can eat crispy roast pork with beer gravy, grilled pork knuckles, and of course loads of German white sausages. Eventually, it's the place where you can break the ice with strangers with whom you would never dream of talking, and it's the place where, after some beer, you can flirt without feeling guilty.

Oktoberfest gives Germans a legitimate reason to get out of control. During Oktoberfest, timidity, language barriers, and cultural and social differences disappear. Thanks to the great amount of imbibed beer, a German is ready to lose his or her mask of rigidity and control.

Oktoberfest gives Germans a legitimate reason to get out of control Tweet This!
Why is it good for Germans to let it go?
Munich and Bavaria celebrate Oktoberfest for 17 days.
New Year's Eve is another time when Germans allow themselves to let go.
In Central Germany, Cologne, Düsseldorf, and Mainz are the heartland of Fasching (German for carnival). Every year in February/March, Germans spend three crazy days and four nights of partying. Everyday life comes to a halt as people celebrate, dance, laugh, and flirt.
If order is a dominant theme for the German culture, permission is also important. Many Germans don't live as if "everything which is not forbidden is allowed." On the contrary, they follow the unwritten rule "Everything not permitted is forbidden."
As strange it sounds, the fact that excess is permitted during Fasching or Oktoberfest also proves the Germans' love for boundaries.
Oktoberfest is a large, traditional, and socially accepted event, and it's a place where Germans can blow off some steam while feeling good about it.
Foto credit by Peter Atkins
Leave a comment with your Facebook account, or use the comment fields below
comments