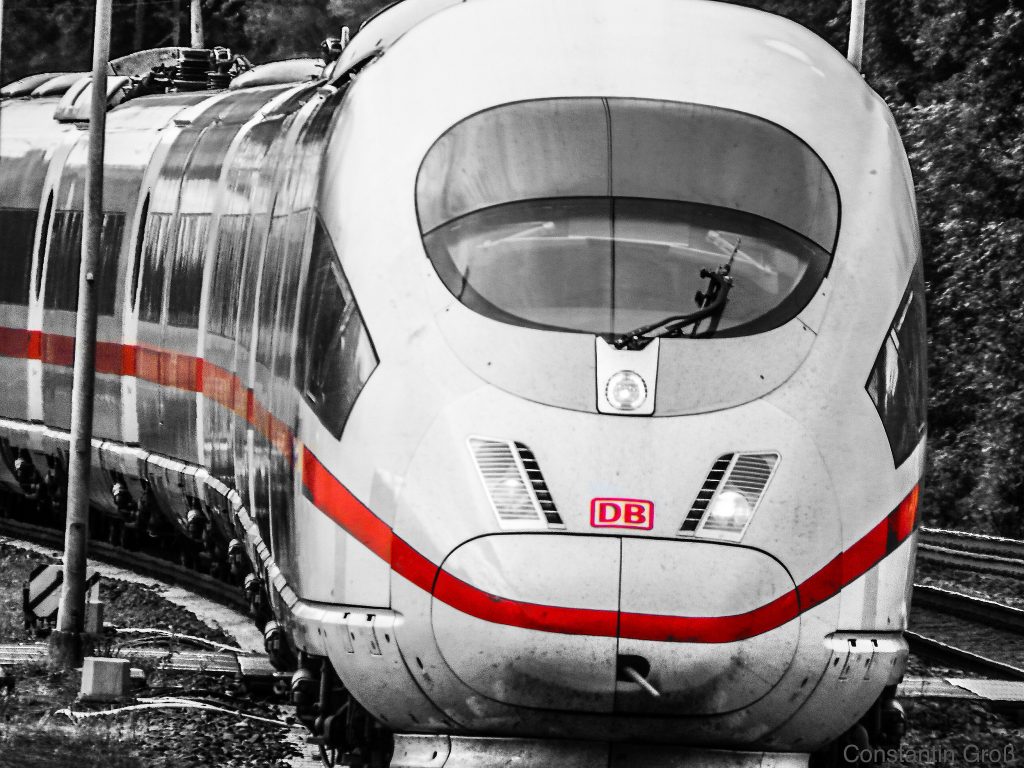 I'm writing this blog from a German high-speed train traveling about 50 mph. …Waaas? (German for "what?"). I agree: 50 mph is hardly "high-speed"!
I'd forgotten about this. I'd forgotten how annoying I find the German high-speed trains. The trains always run late, stopping at every town in the German pampa (French-Spanish for "the middle of nowhere"). German ICEs (which copied the French high-speed train years later under the name Inter City Express) are not fast at all.
Let me explain. I travel by train from Frankfurt, Germany to Paris. I started in Frankfurt at 1:37pm and will arrive in Paris at 4:50pm—340 miles (550 kilometers) in around 4 hours. It's almost impossible to travel this quickly by car. Airplanes are faster, but the airports are outside of the city, and checking in plus security controls take time. Many Germans prefer the train when taking a trip to Paris.
But, the train I'm riding now has stopped three times in Germany before passing the border. I suspect that only a few of my readers are familiar with the European geography. When I lived in Frankfurt, it took me 2 hours by car to drive to the border. My train took 2.5 hours to go the same distance. How can a high-speed train possibly be so slow?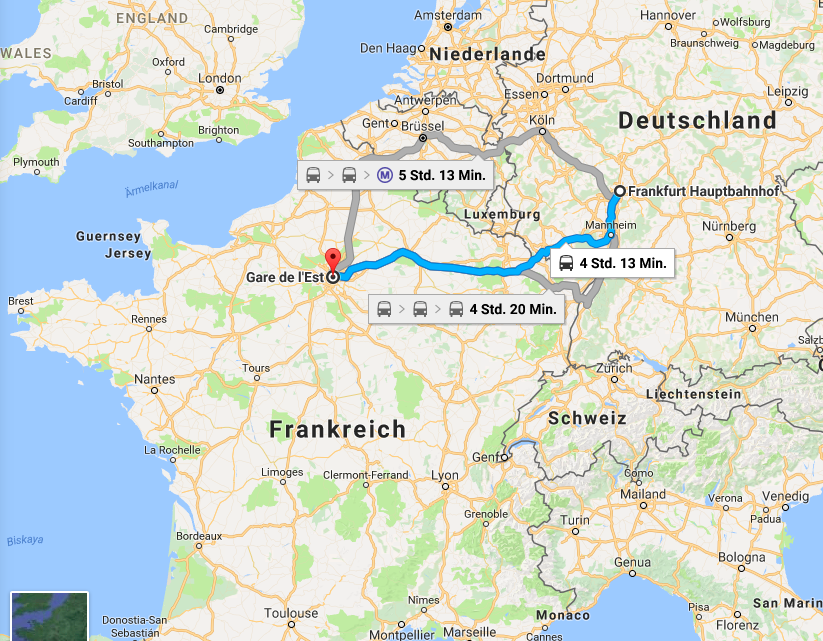 Imagine a high-speed train between Washington, DC and New York stopping in Baltimore, Wilmington, Philadelphia, and Trenton. The time that the high-speed train gains would be lost through multiple stops. That's the way it works in Germany!
In Germany, high-speed travel actually pertains more to cars and interstates than trains. The rails are not always specifically developed for hyper-velocity. As a result, my train to Paris will speed between the French border and Paris, making up the time lost in Germany. In two hours, it will cover the double distance.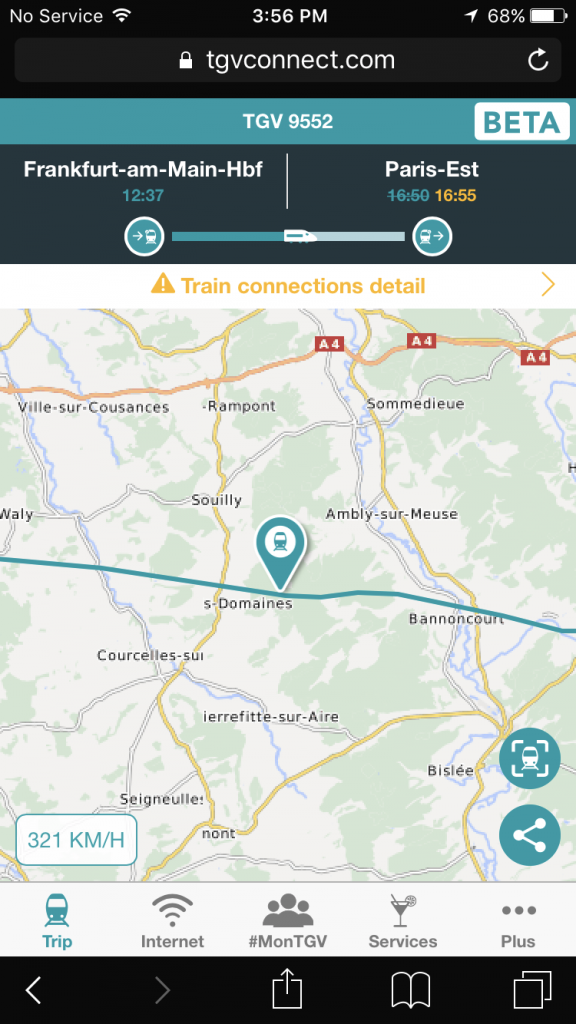 Heck, I'm so annoyed by German high-speed trains
The ICE between Frankfurt and Berlin stops everywhere, sometimes after only a 30-minute ride. Once a day, it travels without stops between Frankfurt and Berlin which means it takes 30 minutes less to reach Frankfurt!
Local or regional interests are the reason for such foolishness. The best example I know concerns the connection between Frankfurt and Cologne. When this connection was planned, two different states pushed their own interests and succeeded in having two separate stations built in a radius of 15 miles! The German high-speed trains connecting the cities have to stop at both stations on their way to Cologne. How expensive and inefficient!
French high-speed trains are really fast
According to Wikipedia "The first French high-speed rail line opened in 1981, between Paris's and Lyon's suburbs. It was at that time the only high-speed rail line in Europe. As of July 2017, the French high-speed rail network comprises 2,647 km (1,654 miles) of Lignes à grande vitesse (LGV), and 670 km (420 miles) are under construction."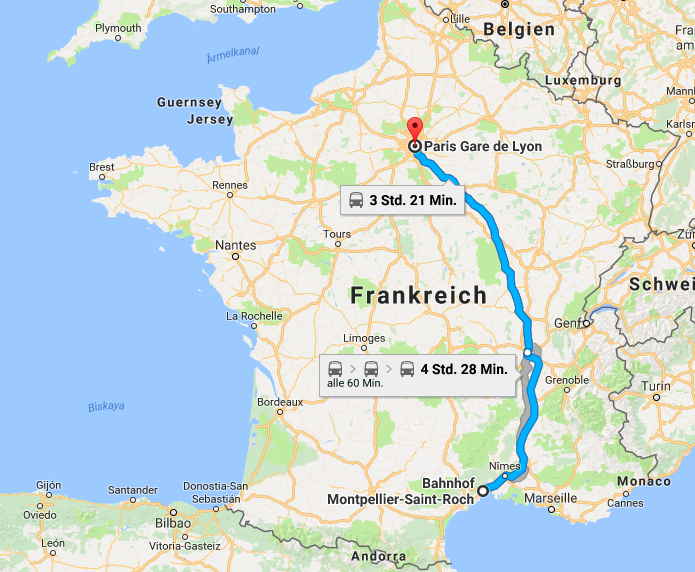 In a few days, I'll travel further south—still riding the train. For my next journey, the French high-speed train (TGV) takes only an hour to go 155 miles (250 kilometers). At the end of the month, I'll end my train riding in Montpellier. The traveling time from Paris is three hours and twenty-one minutes. The distance? 470 miles or 760 kilometers. Now, that's what I'd call a high-speed train!
Some travelers may think that they'd like to see high-speed trains in the US anyway, no matter how frequently they stop. In German, we would say that this is "Jammern auf hohem Niveau" which means something like first-class whining…
Have you ever taken a train in Germany or France? What were some of your travel experiences? Please share them with me in the comments below!
Photo credit: ICE by Constantin Gross
Leave a comment with your Facebook account, or use the comment fields below
comments