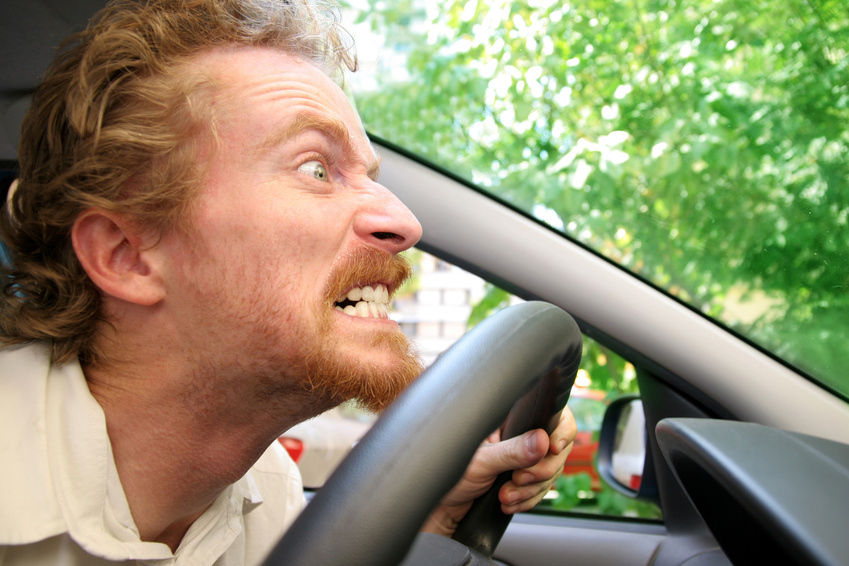 One day, I will get shot in my car—shot by an enraged American man with a gun in his glove compartment. The German tabloid BILD would then write the following headline: "German mom killed by American in front of her 3 children."
Gloomy prophecies aside, I'm not kidding about the challenges of driving in the United States. Americans may be polite people in general, but they turn completely crazy while driving. Only yesterday, I experienced yet again how aggressive they are in their cars.
I was driving back from the beach, expecting heavy traffic at the end of the Labor Day weekend. Unsurprisingly, traffic congestion started 25 miles before the Chesapeake Bay Bridge. Over the next two hours, I had to merge from the right lane several times. Every time, the drivers who were previously content to hang 100 yards behind me suddenly accelerate because they didn't want to let me in! Even though I merged successfully each time, the other drivers made their anger clear. I'm convinced that one day, one may take a gun and shoot me for daring to ignore his wishes.
I have traveled around Europe and other parts of the world for the last 20 years. I drove in Paris around the Triumphal Arch when I was 20 and managed the left-sided traffic in the UK and Ireland without any damage. I drove a Mercedes, a BMW and an Audi for years, and I'm familiar with 125 mph (200 km/h) average speed on the German Autobahn. Italian drivers are kind of crazy, but they can drive a car reliably. Brazilians are more crazy, however. Driving in Belo Horizonte is one of my scariest memories, but at least they can drive a car. But in my experience, Americans can not drive. Let me explain:
10 reasons why Americans can not drive
Reason #1: Low speed limits for their own safety
The American speed limit is so low because Americans cannot drive attentively. Speed limits are set by each state in the United States. The highest speed limit I saw since living here was 70 mph (113 km/h). American highways are usually limited to 55 to 65 miles per hour (88 to 105 km/h). Just imagine Americans eager to drive a Porsche or BMW on the German Autobahn, which are famous for not having a speed limit. (This is actually a myth, as around half of all German highways do have a speed limit.) How dangerous!
Reason #2: All lanes blocked on the highway
Americans drive mostly at the same speed on all lanes, forming barriers that block every lane. I'm not talking about the two lanes of French highways or the two to three lanes of German highways. After two years in the U.S., I still count the lanes on the highway. Usually, there at least four to six. How can you drive safely if you have to check constantly for other cars zipping around you or stopping short?
Reason #3: Passing on the right
Despite laws and signs to the contrary, Americans still pass on the right side! Guys, this is not allowed. Unfortunately, it is tolerated by the police, which is, in my opinion, a big mistake. Elsewhere in the world, you would get a ticket for passing on the right.
Reason #4: Poor traffic law-enforcement
The police tolerates drivers passing right and driving at the same speed in all lanes. Allow me some politically incorrectness: the media also report shootings by police officers against African-Americans. So, where are these officers when angry drivers pass me on the right??
Reason #5: All-way stops
Americans are such poor drivers that they need four stop signs at a junction in order to be sure that everyone will stop. Okay, I'll admit it: I have problems with American crossroads and all-way stops. The concept of "first arrived, first to go" is not natural for me. I naturally think in terms of drivers on the main road or the secondary road (because only the secondary road has a stop sign, at least in Europe). In addition, I assume that drivers to the right have priority (right before left). Since living in the States, I have asked myself repeatedly whether Americans really know the difference between right and left.
Reason #6: Straight streets and highways
I'm pretty sure that the streets are straight because Americans can't use the steering wheel properly. They are too busy texting, drinking huge sodas, or eating burgers while driving. Honestly, I understand somewhat: driving here is so boring for me. The lower speed limits may make the road safer, but for Americans who know that "time is money," multitasking in the car seems inevitable.
Reason #7: Cruise control for dummies
Cruise control is a genius invention that automatically controls the speed of your car. As a result, Americans don't have to do much in their car. Drivers only need to set the final destination on the GPS, activate cruise control, and hold the steering wheel with one finger.
Reason #8: Oh my gosh, I have to park!
Every single day, I go crazy at Pauline's school. There is a short-term parking area for parents while they bring their children inside the daycare. However, you can only park here in parallel or if two successive parking spaces are empty. If Americans could drive, they should be able to park in parallel. But because they are used to parking in huge spots, they block much-needed space for other parents.
Reason #9: The drive-through
Americans invented the drive-through because they can't take the time to park. It is so much more convenient. No parking, no walking, and easy eating in the car during the trip (see reason #6).
Reason # 10: Easy driver's licenses
My eldest daughter will turn 16 in December. It's almost time to get her driver's license. This was the only plus point on her list before we moved here: driving at 16! However, when we started to explore how to learn to drive in the United States, we were quite surprised. Most children here are taught to drive by a family member or friend and take the driving skill test in their own car. Malia Obama, President Barack Obama's oldest daughter, was taught to drive by the Secret Service. I assume that the Secret Service can drive, since it's responsible for protecting the President of the United States. Other kids may be too young to be behind the wheel, but maybe Malia Obama won't be a danger for DC!
Do you have more reasons why American driving is insane? Let me know by leaving your comment at the end of this post!
Foto credit by Vladimir Mucibabic
Leave a comment with your Facebook account, or use the comment fields below
comments