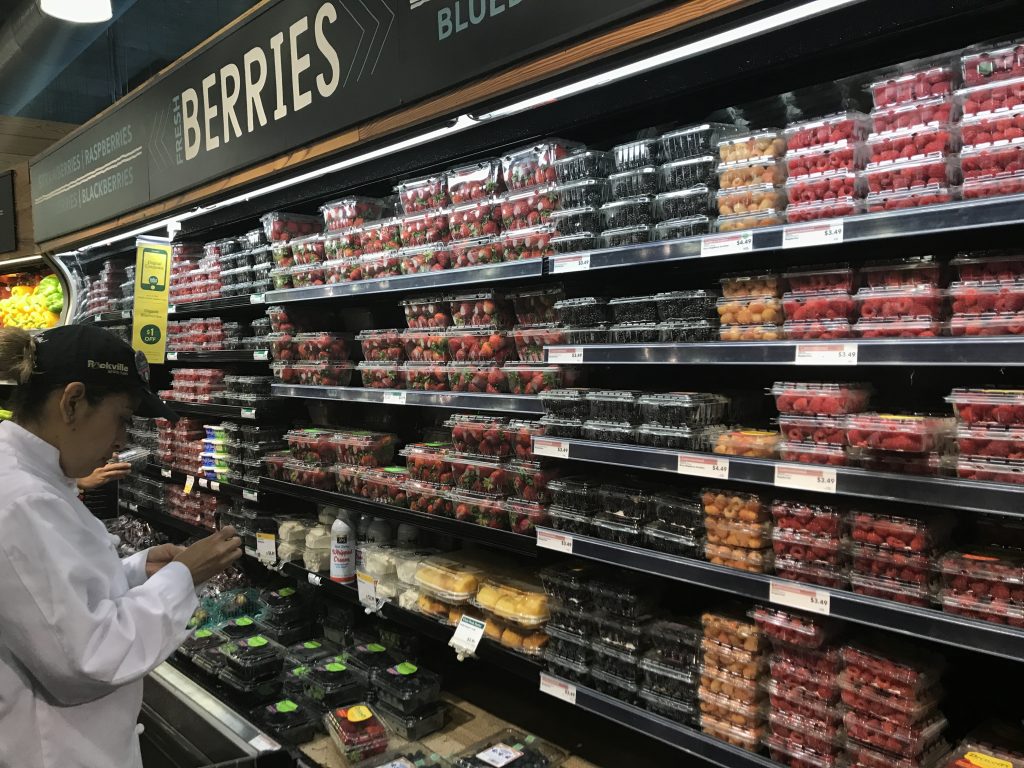 America: the land of plastics
Cucumbers are sleeved in plastic films, and baby carrots are filled in resealable plastic pouches. Even Whole Foods, the organic supermarket chain, wraps its fruits and veggies in transparent plastic boxes. The quantity of plastic used in American supermarkets is something that really annoys me.
Many customers want to make healthy choices and buy produce grown without certain pesticides, but few of them spend a single minute considering the environmental impact of plastic. Such a paradox!
Plastic packaging is everywhere because it makes our lives more convenient. Baby carrots are peeled, fresh fruits are cut and sliced, salads are ready to eat, etc. However, as I've heard from other American friends, none of this packaging was available 30 years ago.
Dear Americans, you're simply crazy!
I live in a county in Maryland where I pay five cents per bag at the supermarket. This same county makes me sort my trash into plastic/cans, paper/cardboard, organic waste (not mandatory yet), and regular trash. Of course, I comply. But, my standard-issue trash can is so large that two of my kids could hide inside it easily (don't worry, they don't), while the recycling bin doesn't hold much at all. After three days, our blue bin is already full. Granted, we are a family of seven people, and we produce a lot of trash from food supplies alone.
I also think that few of my neighbors bother to sort their trash according to the county's instructions. If they did, they'd need more than a small blue bin each week.
Let's talk about trash collection. My home office faces the street, and I can see the trash collectors on Friday when they empty the bins. Honestly, I've seen the guys put everything from the blue recycling bins into the same dumpster as the trash on multiple occasions!
After looking at the trash bins at chains like Chipotle or Cava, I'd say that Americans don't know how to sort their trash. Many people throw away everything in the same canister! Actually, I don't blame them since the signs on each bin are not clear at all. Either way, food waste and plastic keep ending up in the same containers.
Recycling is important. You really should do it.
I understand that many people think that food is better protected by a plastic box. At this point, we're accustomed to seeing packaging on most food that we buy. I also remember reading that plastic packaging significantly reduces food waste. But, few Americans realize that significant pollution stems from the production and recycling of plastic.
I'm puzzled by how Americans cherish their National Parks but don't care what might happen to them if they continue to encourage plastic invasion on the supermarket shelves.
Can Americans learn something from Germany?
For this topic, I don't really want to compare the US to Germany. First of all, Germans have other habits that sound pretty ridiculous to Americans. Secondly, Germany has much less storage space for garbage, which may have motivated the nation's trash-sorting initiative 30 years ago.
However, while most Germans care enough about nature to comply with restrictive recycling laws, they have no problem with importing organic potatoes from Egypt. That doesn't make much sense in terms of environmental protection does it?
So, yes, I don't like the abundance of plastic in American supermarkets. I prefer going to farmer's markets and buying fruits and vegetables that aren't the perfect shape or color. At least the sellers pack them in plain paper bags. Let's say that's my small contribution to saving the planet.
Leave a comment with your Facebook account, or use the comment fields below
comments