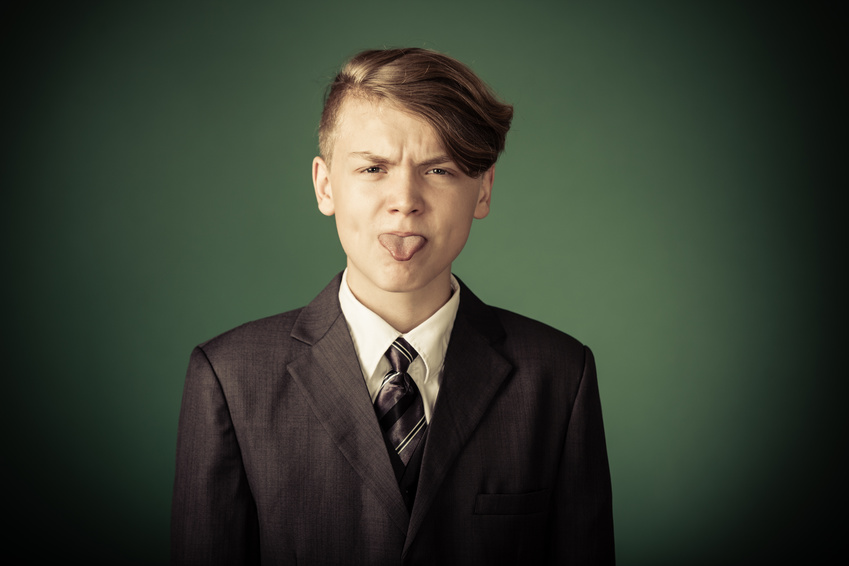 "Why are Germans so blunt?" my clients or friends ask frequently. If you knew me personally, you'd agree with my husband that my French blood has mixed well with the German tendency to be direct. However, this is an easy question to answer: Germans are not rude; they just prefer clear communication and dislike beating around the bush. What someone perceives as bluntness is more of a cultural misunderstanding than impolite behavior.
After one last oral exam, my daughter will graduate from the German School in a few days. We all know that she will finish with honors, so I feel confident enough to talk about Mister S., one of her former science teachers and one of the most controlled and direct Germans I've ever met.
Mr. S. is a serious person who I've never seen smile. Once a year, for three years, I've met him during parent-teacher conferences, in the cafeteria, or occasionally at some school events. Usually, when you've known somebody for a while, you can expect, even in Germany, to move on to lighter topics or at least to make some small talk. But, Mr. S. always sticks to the facts, informing me how often Jasmine raised her hand, arrived late, or forgot to do her homework. He reminds me which grades she achieved (really good and really bad) and instruct me to talk to her about her behavior in class.
Mr. S. is a good example of the cliché that many foreigners attribute to Germans. He'd meet you with a brisk nod, gesture for you to take a seat, and immediately start to talk. His notes are always neat and organized, and did I mention that he never smiles?
I've already demystified the alleged German lack of humor in another post ("Seriously, do Germans have a sense of humor?"). It's time now to talk about German directness.
Why are Germans blunt?
What someone perceives as bluntness from a German person is more of a cultural misunderstanding than an impolite behavior. There is no room for ambiguity in German communication; they say exactly what they mean because they value directness and honesty. Of course, they don't mean to be rude and rarely notice the impact of their directness on people from other cultures. Mr. S. probably wouldn't recognize himself in my earlier story. If he did, he wouldn't see anything wrong with his behavior.
According to Edward T. Hall, a late American cross-cultural researcher, "The German language is much more literal than English. This means Germans are conditioned from early childhood to be exact in the meaning of words."
I first learned German at school in France, and I became fluent after moving to the country. In my first job, my German boss always asked me to rewrite her emails because she knew they were too rude for French managers. The first time I did, she was really excited about my work and loved my more temperate tone.
In Doing Business with Germans, Sylvia Schroll-Machl explains that "A clear question gets a clear answer . . . Germans consider this to be the most honest, straightforward, authentic, and believable way to behave."
Plus, besides honesty, Germans highly appreciate efficiency. Being direct just saves them time!
Of course, I have to quote Adam Fletcher's hilarious book How to be German. Fletcher doesn't explain if Germans are blunt or not, but he concedes that "Once you've practiced regularly getting to the point, you may find the way to be short very enjoyable."
How should you deal with German directness?
Don't take it personally; it's just the way Germans are. Think about their bluntness as a type of goal-oriented behavior. They say what they want, what they think, and how they feel. Period.
In Germany, my husband got scolded for mowing our lawn on Sunday. Another time, a foreigner rang to ask why my son was crying so loud, as she could hear him from the street. A colleague once told me I was wrong to go back to work while my child was only a few months old since the child would turn into a criminal. My list could go on and on. The point is that almost all Germans act similarly. Some will be nicer and ask you with a smile not to mow on Sunday. Others will lecture you about why Sunday is the Lord's Day when everyone should rest.
Avoid hasty generalizations!
Germans have been export champions for years. In that time, they have collected a lot of experience by working with foreigners in or outside of Germany. I know many direct Germans who don't fit into the "rude" category. They are well-behaved, curious, and aware of their bad reputation. They can make small talk and work on establishing a relationship.
Believe me, many Germans are direct, but not all Germans are rude.
If you'd like to read more about German bluntness, you can check out these books:
Photo credit by Jan H. Andersen
Leave a comment with your Facebook account, or use the comment fields below
comments