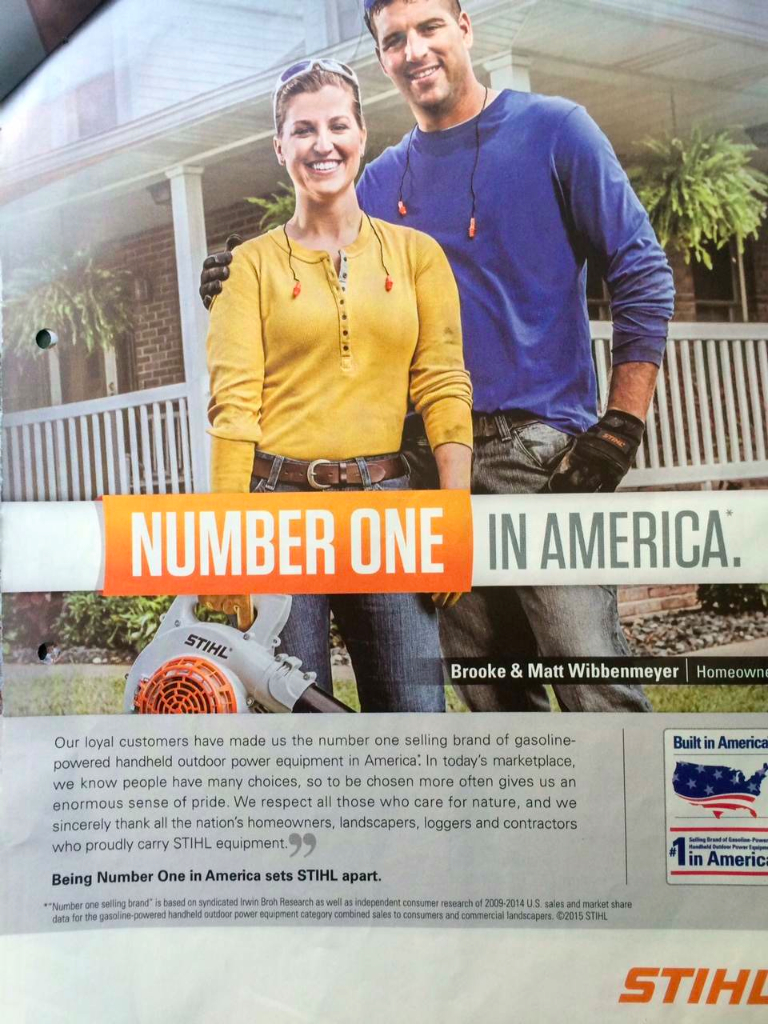 Is STIHL an American or German brand?
Whoa! Stihl, the worldwide market leader for chainsaws, has published a ten-page special advertising section in BusinessWeek. I am really impressed! But the most impressive fact is that Stihl positioned itself as an American manufacturer. But is Still an American brand? I was so astonished about it that I had to check on the German website to reassure myself that Stihl is still a German company. It most definitely is – and for almost 100 years!
How do I know? Easy. I first went to Germany to a city named Waiblingen when I was 13 years old. My mum had organized an exchange with a German family so I could improve my school German. My then pen pal turned out to be my best friend forever, and the rest is history. I have since spent a lot of time in Waiblingen where Stihl's headquarters are located.
How does Stihl describe itself as American?
It begins with the title "Built in America, beloved worldwide", and a sub-headline underlining the American origin "For Virginia-based STIHL Inc., a high quality, domestically produced product is more than a business model – it's a core value."
The introduction talks about companies bringing back production to the United States "but Stihl… never left." A description of the American facility follows: 2,000 employees, 260 model variations of equipment and production for the U.S. and over 90 countries. CEO Fred Whyte points out, "… if you are going to be a player in the American market, you have to be a manufacturer in the American market."
Furthermore all headlines focus on the American origin: Built in America, Serving America, At Work in America, Number one in America.
It is subtle and amazingly well-done. I needed to re-read the publication before catching up on "The U.S. subsidiary of the company founded by Andreas Stihl in 1927… began assembling chainsaws… in 1974" and in "one of seven international manufacturing facilities in the Stihl Group, the U.S. produces the highest volume of Stihl power tools."
Check the picture gallery at the end of this article to read the full special advertising section.
In my blog post "Missing the Made in France in the U.S." I have already talked about the different strategies between French or German originated brands in the United States. Stihl is a good example of the German strategy. Adidas, T-Mobile, Aldi and Haribo are other examples of German brands not talking about their German origin. The German positioning is only clear in the car industry: Americans who are well-off buy Mercedes or BMW cars.
I don't know why Stihl decided to do in the United States as if it's an American and not a German brand. BusinessWeek wrote also that "Stihl… boasts the fact that its products are a combination of renowned German engineering and good old American know-how." But if I consider where all the handymen, painters, electricians, etc., who have ever worked in our house, come from, their perception of Stihl has certainly an influence on the brand positioning.
I have talked with our Mexican handyman, the Bolivian construction worker and the Salvadoran electrician. I asked them if they were happy with their tools, and what they think about Bosch, Stihl, and Siemens? It came out that they didn't know Stihl and Bosch were German brands. They thought they were American. I didn't go deeper in the conversation. Believe me, it was weird enough for them to talk business with a woman!
Foto credit by @STHIL advertising in BusinessWeek
Leave a comment with your Facebook account, or use the comment fields below
comments