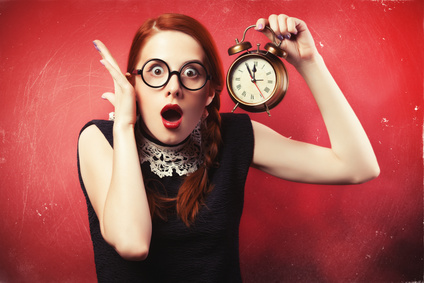 The American pace of life is nothing like what you find in Europe, especially in France or Germany. Life here never stops. Stores are open 24/7. Orders are delivered same day, even on Sundays. Welcome to a country where new technology serves a different way of thinking.
"Time is Money" in the United States
I am always amazed by how vibrant life is in the United States. Our fitness club opens at 5:30am and closes at 10:30pm. On the weekends it's a little more relaxed, but only a little. It opens at 6:00am on Saturdays and at 8:00am on Sundays. The stores are open 7 days a week and I miss my peaceful years in Germany where Sunday was still the Lord's Day.
The United States is famous for same-day delivery. And I'm not just referring to Amazon and its delivery drones. I actually understand Americans. Since I have been living here, time has become a scarce commodity. I have always had a strong work ethic and my pace in Germany with five children (my husband's children were living with us in addition to my three children) was also very intense. But it's worse here; 1000 times worse. According to an OECD study, Americans work an average of 400 more hours per year than the Germans, and 300 more hours than the French.
A contagious idea
I kept a few clients in Germany: There's a 6-hour time zone difference from Washington. When my day starts, it's already mid-day in Frankfurt. At 5:00am, when everyone is still sleeping, I duck under the covers to read and answer my emails, or to make my to-do list for the day. My website and my blog are managed by a company in Cameroon. The time zone difference is 5 hours. At night, I end my day on the social networks: Twitter, Instagram, LinkedIn and Xing. I am still online, from 5:00am to 11:00pm at night.
Living on the East coast, I found out about the ways of the West Coast. It's the same. The fashions may be cooler, but punctuality and the notion that time is money are still dominant traits in their way of life too. Completely overwhelmed by the pace of American life, I asked myself how I could find more time.
Time is money – and not just because of greed
The notion that time is money cannot only be explained by greed. The real motivation is having a sense of accomplishment and success and being rewarded for your efforts. Money represents success. To have a nice house, drive a Mercedes, wear expensive brand-name clothing, and travel in first class, Americans talk about it to show that they have been successful in life. This makes Europeans uncomfortable, as they are accustomed to more discretion.
The United States is a harsh country. It doesn't have a temperate climate, but extremes of weather. Americans have had to adapt to this weather – I discussed it in my post about packaging. I won't go into an entire history here about how the United States was founded, but it was done with the blood, sweat and tears of the first colonists and pioneers. Their living and survival conditions were particularly difficult and only the shrewdest, most perseverant survived. In today's world it has become "work hard and your efforts will pay off".
"Time is Money" becomes negotiable currency
I find that Americans are very pragmatic. While Germany is a country where they train specialists, the United States takes work segmentation to the extreme. For example, maids don't wash windows and gardeners will mow the lawn but won't cut the trees. Yes, there are also handymen, these super do-it-yourselfers who will handle what the Man of the house doesn't know how to do, or doesn't have the time to do.
Thanks to new technology, the currency of "time" becomes negotiable. American life is measured by the exact minute. Here are a few examples: our American friends never stay more than two hours at a dinner. It doesn't matter where, what the occasion is, or who the other guests are. Networking pros, they won't spend more than a few minutes talking to a stranger. When they pull out their business cards, it means they are done! The follow-up takes place later via email and LinkedIn. Here's one final example: the first time that my son was invited to a birthday party, I had to re-read the details three times: Sunday, from 5:00pm to 6:30pm. Yes, a Sunday, at the end of the afternoon and for no more than 90 minutes, tops.
The idea is to sub-contract the less important tasks so you can focus on the essentials. Personally, I have two priorities: my children and my business. Focusing on the second one (meetings, conferences, deadlines, etc.) often falls behind the needs of the first one (preparing meals, involvement in school life, sports, etc.) and my own need to spend quality time with them. How can I get it all done when the fridge is empty and I have to send a gift to my godson? American start-ups make it all so much easier.
Postmates, Shyp and Shipster will come pick up your packages at home and send them for you. I can hire an assistant (online) at Fancy Hands and Tasks Everyday. What can they do? Find a birthday gift for my husband or renegotiate my cellphone contract. To empty and store our recent moving boxes, I could call Taskrabbit or Agent Anything. Professionally, I really like Elance and Upwork (formerly oDesk) where I can find freelancers to do my graphics or to proofread my English texts.
Does this have a future in Europe?
Is there a future for these services in Europe? Elance and Upwork certainly have a future. All businesses experience cost pressures for services. They will appreciate having access to qualified personnel within a secure environment (electronic payments are held in escrow and payable only once satisfied with the work). The decision is easy to make as long as we can make more per hour than we pay for this service.
I am more doubtful about domestic services. This isn't really about delegating tasks that we are technically unable to do ourselves, but more about buying time. And in Europe, time is not yet money, and I hope it stays that way for a very long time.
These articles might also interest you: New Media: French SMEs are lagging behind or  Cross Border Marketing is dealing with Culture
Photo credit: © Masson
Leave a comment with your Facebook account, or use the comment fields below
comments