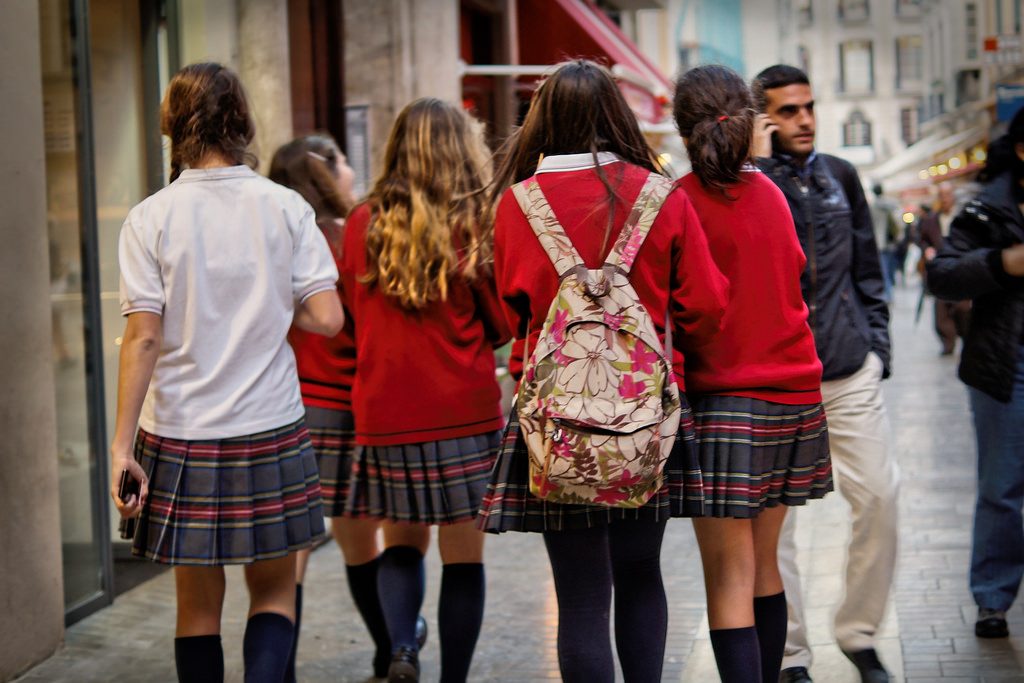 Two years ago, my daughter wrote an essay for her English class entitled, Why I think our society needs feminism. Following the template for a high school essay, she had three topics supporting her thesis: rape statistics, the wage gap, and dress codes. Sadly, the numbers she cited have barely changed, and dress codes are highlighted by the media now and then. Jasmine authored this new post about dress code differences between the US and Germany.
After graduating from high school a few months ago and finally being freed from the restrictive clothing rules, I'd like to take a closer look at the school dress codes in the US and in Germany.
I attended school in both Germany and the US. While I went to a German School in the US, I still noticed big differences between the two countries.
Dress code in German schools
In Germany, teachers always talked about banning so-called "hot pants" and crop tops from school. At parent teacher conferences, teachers would inform parents of the planned prohibition of "inappropriate clothes."
Every time a teacher brought up an issue, an outcry would arise, mostly from the girls. We feared that we would be forced to wear maxi skirts (not very popular at the time) and cargo shorts (still not very popular). We also felt that since only a few girls actually wore controversial "short shorts," making a school-wide rule would punish everyone unfairly.
In reality, nothing ever happened. We kept wearing what we wanted, and teachers kept complaining to little avail.
Dress code in American schools
My experience attending German school in the US was quite different. Students and their parents had to sign a written dress code. When I arrived in the States almost 4 years ago, I was asked to sign an old version that nobody took seriously.
However, as part of the student government, I quickly learned of the teacher's plan to rewrite the dress code. The proposal provoked similar reactions from many students. Honestly, the fear of having to wear untrendy clothing is not tied to a country but simply a normal part of being a teenager. When I left school a few months ago, a new version had been implemented without any feedback from the students.
Of course, new problems resulted. For example, all shorts, skirts, and dresses are now supposed to be as long as our fingers when we let our arms dangle. While this sounds okay in theory, I challenge any female to try finding shorts that meet this rule. Because everyone has different lengths of arms and legs, the rule would allow a dress on one girl but forbid it on the next one.
As of now, the current dress code is already being revised.
These examples for both schools, while specific to my personal experience, do depict the general feel about dress codes in each country.
Cultural factors affect dress code differences
In Germany, free speech is held as incredibly important. Clothing is considered a part of expressing oneself, so imposing a strict dress code usually leads to a heated discussion about letting kids develop their own identities.
School uniforms are an even more controversial topic. As a student, I often ran into this issue in essay prompts, which asked me to practice weighing pros and cons. Practically, I know that uniforms solve a lot of the problems caused by the lack of a dress code at German schools. However, a large portion of parents, students, and even lawmakers rebel against the idea of wearing uniforms by quoting the German constitution, which grants the right to freedom of personal development. Over all, dress codes are not prevalent in German schools.
In the United States, the situation is quite different. In both countries, the topic of dress codes is much-debated. But, in the US I've found that dress codes are too strict. In my former article, I mentioned the example of a 5-year-old girl who had to wear additional clothes to cover her sun dress.
This is not an exception; a lot of schools in the US forbid short clothing. In extreme cases, some impose additional restrictions like no collarbones can be shown and shoulders have to be covered in an effort to eliminate "inappropriate" clothing. To avoid this whole dilemma, many private schools have school uniforms.
In the US, dressing as a teen is not associated with free speech or personal development in the same way as in Germany. Schools, school districts, counties, or states dictate the dress codes. From time to time, a scandal erupts because a girl has been sent home for showing "too much skin," but I can't remember any follow-up stories about a changed dress code.
Practical reasons for the German dress code
Free speech/personal growth is not the only reason I see for this development. There is another, simpler explanation.
When I went to school in Germany, the summers could become unbearable. With temperatures around 90°F outside and no air conditioning inside, it could become quite toasty in the classrooms.
However, I had to wear a hoodie in an American high school during the summer when I took a SAT class because of the freezing indoor temperature—a cultural difference that drives my mom crazy, as you can read here.
I still stand by my opinion from two years ago that dress codes restrict women in their clothing choices, mainly due to the over-sexualization of the female body. Even though these dress code differences between the US and Germany may not seem severe, I feel more comfortable without a dress code.
Photo credit: Florian Ramel
Leave a comment with your Facebook account, or use the comment fields below
comments