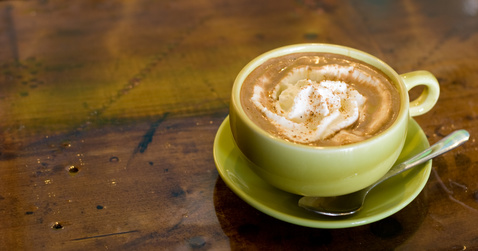 At first glance, the Paul bakeries have nothing in common with Starbucks. However both are places where people like to go, come back again, and even stay a little longer. It's actually not surprising that Paul USA's CEO is the former GM of Starbucks France.
When I'm not on a mission or in a meeting with a client, I work from my office. But when writing this blog, I often hang out at Pain Quotidien or Starbucks.
Allow me to clarify: I go to Pain Quotidien while waiting for Paul to open in my neighborhood. Even without WiFi, I really like going there! The good news for the locals is that a Paul is opening in Bethesda in June. Yippee! While it may be in Bethesda, we are spoiled by Fresh Baguette and its multiple batches of bread each day and two Pain Quotidiens. Their baguettes leave a little to be desired, but the atmosphere is enjoyable and they have delicious soups and salads.
Why put Starbucks and Paul USA in the same basket now? It's definitely because I would like to be able to sit my butt down to do some work there. But also because the CEO of Paul USA was the General Manager for Starbucks France. So I am not the only one who sees similarities between the two.
Starbucks and Paul USA– Two Similar Concepts, Despite Everything
At first it's not obvious to compare Starbucks, an American multinational, with Paul, more of a French SME. I can already hear you cringe! Yet I do see similarities. Starbucks and Paul export their concepts without much adaptation. The two chains are a meeting place for their customers, and people go back because they are satisfied.
The reasons for this satisfaction certainly vary. At Starbucks, the customer is king. Any complaint is handled with a smile; the coffee will be re-made and accompanied with a discount coupon for next time. At Paul's, the product is king, and visitors are likely delighted with its tastes and its origin (don't forget that I blog from the United States!)
Another Commonality
While in France, Paul is positioned as a bakery, pastry and sandwich shop, here in the United States Paul is place to meet and have lunch. At Starbucks, the 18-24 year-olds that generate 40% of the overall sales can generally be seen in the café. They go there to study, work and meet up with friends. The over-25 set has a more outward-oriented consumption; to be seen there with a siren-emblazoned mug is cool.
Affluent Customers Form a Line at Paul and Starbucks
Starbucks's coffee is significantly more expensive than that of its competitors. And eating at Paul in the United States is not within the reach of everyone's budget. A strawberry tart costs $5.45; a chocolate-filled pastry is $2.65. A piece of quiche with a small salad ranges between $8 and $10. Paul is more expensive in the United States than it is in France, and seems to target French or foreign customers looking for some French nostalgia. It is common to meet Italians at Paul and to have a chat with Americans. Some says that Paul is a little piece of France at the other end of the world. (1)
There is Still a Big Difference!
I go to Paul or to Starbucks for different reasons. With free WiFi access at Starbucks, I can work there without being disturbed by the baristas, with an American coffee and an infamous croissant beside me. Let's just say it's my way of doing research to get me into the "American White Girl" mood.
My favorites at Paul USA: the king cake, the lemon tarts, the macaroons and the little round bottles of Orangina. I am therefore getting take-out for the great delight of the family! As for the token "Did you see me?" Starbuck's goblet, I was really not far off from this the first time I exited a Paul in the United States. With my see-through plastic bag with my cake box in hand, I proudly crossed the street. Needless to say that I did not attract any attention from the people in the subway…
Two International Strategies
Starbucks seeks partnerships. Its entry into France was done through a joint-venture partner (2). Paul ventured into the USA all by itself, and is growing little by little. Just this once won't hurt, praised my typically critical husband when referring to this solid growth.
Starbucks is a large company with more than 20,000 retail outlets and some 150,000 employees. Howard Schulz, its CEO, made the front page of Time Magazine on February 16. The article about this man, made my husband change his mind about the company…even him, who was very anti-Starbucks. But look no further; it's the opposite with our 15-year old, who is very much in search of what's cool and the "American White Girl" image.
Yes, Paul is just beginning a long history in the United States. From the nine outlets I spoke about in my article "Missing the Made in France in the US", it will grow to 18 by the end of the year. Aside from the opening in Bethesda I already mentioned, a flagship store will open in Boston on May 11.
By the way, here's some free advice for Paul USA: start building your brand in the United States now. You don't need a big budget! With today's new media, convert your customers into brand ambassadors. Encourage them to talk about you and don't forget to hire a community manager to manage your campaigns! I would love to see a campaigned called: #ILoveMyPaul
You might also be interested in the article "Missing Petit Bateau in the US"
Sources :
(1) http://www.groupeholder.com/vf/marque-paul.php
(2) http://investor.starbucks.com/phoenix.zhtml?c=99518&p=irol-newsArticle&ID=452564
Photo credit: © Dave Newmann
Leave a comment with your Facebook account, or use the comment fields below
comments