It's been a while since my last post about Aldi and their competitor Lidl. Catch up with the latest development about these German discounters' presence in the US: a new store concept for Aldi and openings next summer for Lidl!
Earlier than announced two years ago, Lidl is about to open 20 stores this summer in Virginia, North Carolina, and South Carolina.
"On a busy road in Fredericksburg, Virginia, a tall, black security fence guards a sprawling—and, for now, largely empty—brick-and-glass building. The under-wraps facility is a prototype store for Lidl…"
wrote the Washington Post in February.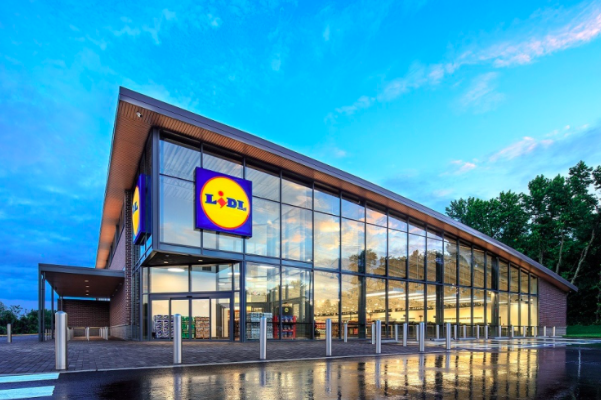 The picture that Lidl provided for the Post shows a modern and stylish building with plenty of glass windows. It hardly compares to Lidl in Germany. Another difference: according to the Post, American Lidl stores will be larger than those in Germany.
Aldi's New Store Concept
Around the same time, I observed a few Aldi locations in Maryland, Virginia, and North Carolina that just completed a total remodeling project. The Gaithersburg, Maryland, store's remodeling is now finished. I went today there and filmed the location's new look and feel.
At the first glance, the store looks quite familiar. The logo hasn't changed and is just like Aldi Süd (for an explanation of this term, check out my post "German Success Stories – Aldi vs. Trader Joe's" here). Neon lights on the ceiling are a feature I remember from Germany, and cardboard boxes are piled on top of each other, looking just like they used to before the remodeling.
But, the similarities stop here. The store's organization is totally different now. The fruits and vegetables display has moved from the right rear section of the store to the end of the first aisle. Right at the entrance, there are crackers instead of cookies. Cereals are not at the end of the first corridor anymore, and promotional products have an aisle to themselves on the other side of the store. There's new signage above each aisle as well to help customers find products faster.
Check out my video below and please don't hesitate to leave a comment on this post or on Youtube.
Aldi attaches great importance to design, and the brand has really improved the look and feel of their stores. They now remind me of more expensive supermarkets where customers are encouraged to feel relaxed while shopping.
However, their product assortment is the same as before, and items are still piled in their original cardboard boxes. The prices haven't moved either, so doing your grocery shopping at Aldi is still a good deal.
The Gaithersburg store is the only one I've ever seen placed in the middle of a shopping center instead of isolated on a single lot with designated parking. Maybe this setup is also part of a strategy to attract new customers. I've definitely noticed new faces while shopping, often belonging to WASP-Americans. If you look closely at my video, you will also see many solo customers without carts running their errands.
It may be too early to claim a US victory, but it certainly looks like that Aldi's new store concept is working.
Leave a comment with your Facebook account, or use the comment fields below
comments